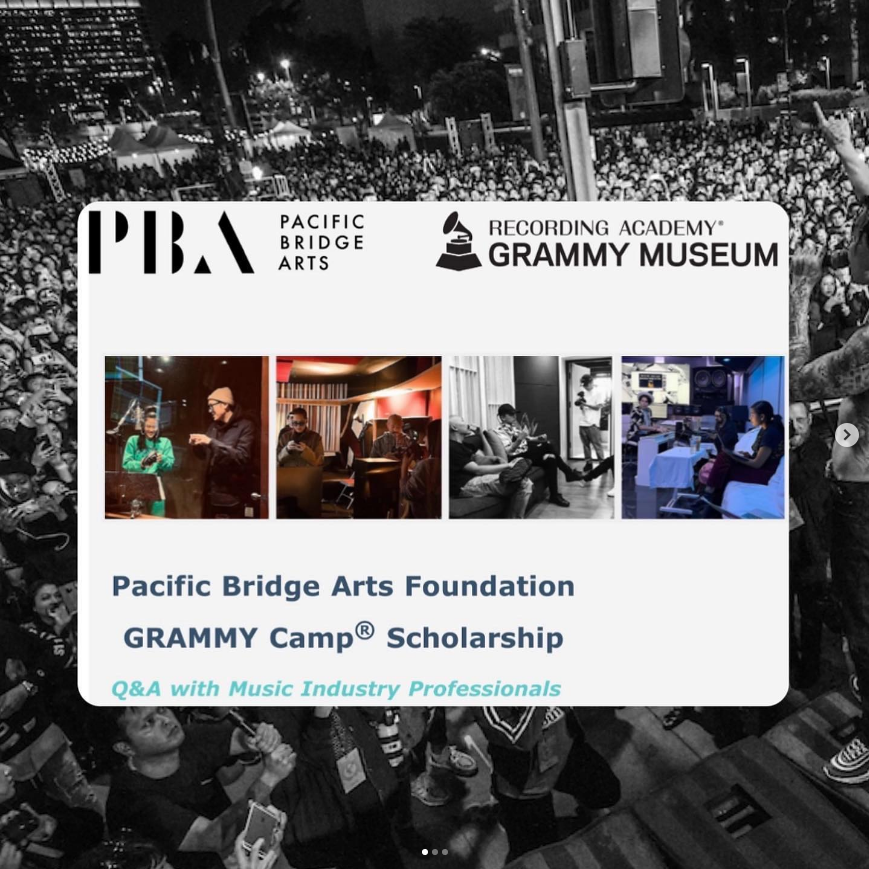 2022 Grammy Camp Scholarship
•Are you a high school student interested in attending the Grammy Camp?
•Want to receive feedback from music industry professionals on your Grammy Camp application?
The Pacific Bridge Arts Foundation (PBA) and the GRAMMY Museum® are proud to collaborate to increase opportunities to Asian American, Native Hawaiian, and Pacific Islander high school students to participate in their distinguished GRAMMY Camp program this summer. Interested applicants will receive feedback and guidance from industry professionals on the creative content requirements of the GRAMMY Camp application during a Q & A session.
GRAMMY Camp is a 5-day nonresidential summer music education program for high school students who are interested in pursuing a career in music. The program will be held in person from August 2 – 6, 2022. If necessary, due to COVID-19 safety precautions, the Camp will go back to a virtual format. The program provides valuable insight and opportunities for students to learn from music professionals. The date for the PBA Q & A session will be announced soon, sign up below for updates.
The GRAMMY Camp application deadline is March 31st, 2022. All applications must be turned in to the GRAMMY Museum by that time. PBA will award a limited number of full tuition scholarships to admitted students of AANHPI descent. Be sure to check mark "Pacific Bridge Arts Foundation" in the application.